The Once and Future Crystal City
Amazon's gleaming HQ2 is taking shape in the area now known as National Landing. Here's what's coming—and what has neighbors worried.
Arlington Magazine
By: Tamara Lytle
February 16, 2023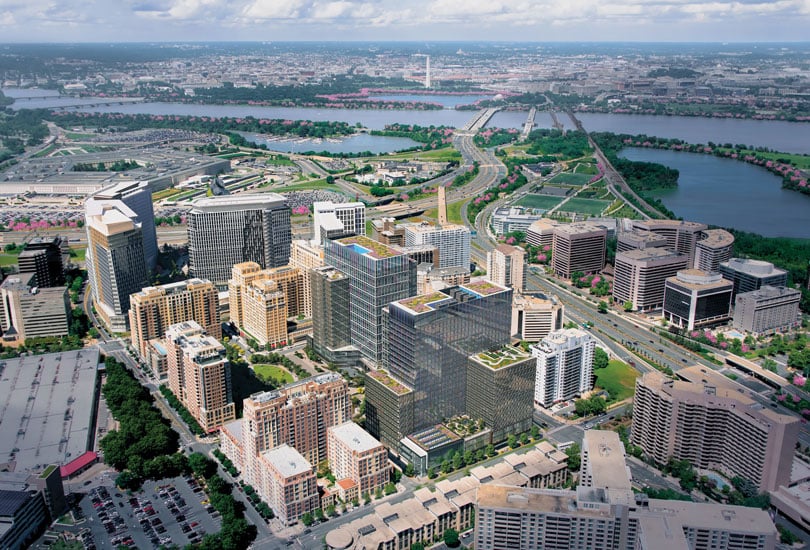 Starting with what many described as a "desolate concrete" canvas, the picture for Crystal City could only improve. 
Some upgrades were already in the works when Tracy Sayegh Gabriel took over as president of the Crystal City Business Improvement District (BID) in August 2018. But there was more work to do. Military and government cutbacks starting in the 1990s had left swaths of office space empty. The corridor's forbidding, Brutalist-style architecture, arterial traffic and dearth of street-level amenities made it inhospitable to those on foot. Raised sections of Route 1 carrying cars to Reagan National Airport and in and out of D.C. seemed to be the priority, by design.
Three months after Gabriel assumed her new role, Amazon's announcement that it would build a second headquarters in Arlington kicked things into high gear, handing the government and private sector a giant paintbrush. 
Now, the district known as National Landing—whose footprint in Arlington includes Crystal City, Pentagon City and the northern tip of Potomac Yard—is in the midst of a full-scale renaissance.
Read the full story here.