Coming in the next decade: National Landing adds buses, trains, sidewalks, streets
Washington Post
By Patricia Sullivan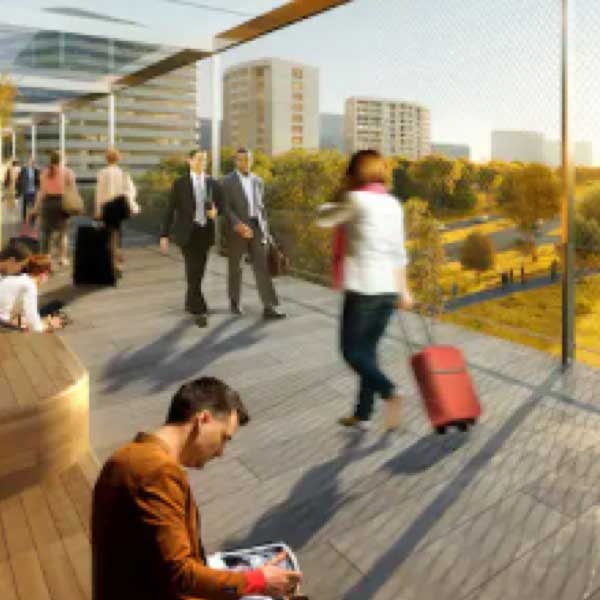 National Landing, the renamed neighborhood of Crystal City-Pentagon City-Potomac Yards in Arlington and Alexandria, will become the country's most connected urban center sometime in the next decade, its business boosters say.
Eight major transportation projects are underway in the area, with the aim of turning what is often seen as a busy pass-through into a truly urban neighborhood where residents, office workers and visitors have easy access to local and regional amenities as well as long-distance travel.
The projects will expand heavy rail services such as Amtrak and the Virginia Railway Express; add four new miles of protected bike lanes; turn a busy elevated highway into an urban boulevard that emphasizes safety and walkability; add additional Metro entrances; extend dedicated bus lanes; widen sidewalks and create new trailheads, and construct a pedestrian bridge over the George Washington Memorial Parkway between Crystal City and Reagan National Airport.
"The collective impact of the projects are truly transformative," said Tracy Sayegh Gabriel, president and executive director of the National Landing Business Improvement District, which published a report touting $4 billion in both public and private investments in National Landing. "This is a story of innovation, equity, sustainability and competitive advantage."
The projects are in the planning, design or construction stages, even as the coronavirus pandemic continues to wreak havoc on travel patterns and the lives of restaurant, office and hospitality workers. They came together because of the arrival of Amazon's second headquarters in Arlington, which was announced two years ago. Many of the projects had been in the discussion or planning stages earlier than that, but the Amazon decision accelerated the plans.
(Amazon founder and chief executive Jeff Bezos owns The Washington Post.)
"Access to good-quality, multimodal transit options was one of the key drivers in Amazon's decision to locate in Arlington," Brian Huseman, the retail behemoth's vice president of public policy, said in a statement. "The additional investments in transportation infrastructure from the County and the Commonwealth will make this one of the most connected and innovative jurisdictions — benefitting the community at large."
JBG Smith, the developer of Amazon's building projects in the neighborhood and the majority property owner in Crystal City, announced last month that it has finished construction on a ­14-story tower at 1770 Crystal Dr. that is leased to Amazon
Read the full story here.